Books I like — Geographical Magazine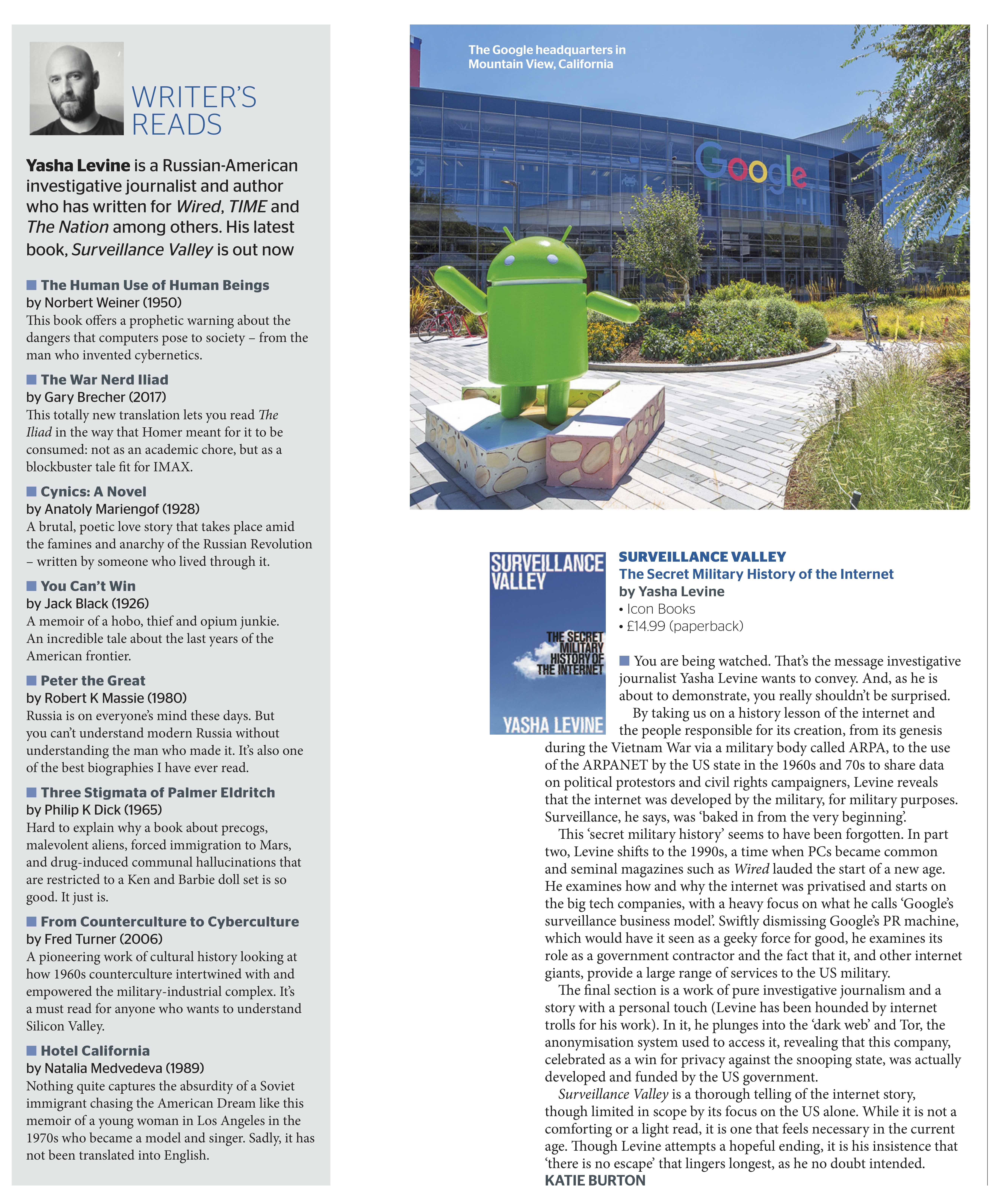 The good people at Geographical Magazine reviewed the UK edition of Surveillance Valley. They also asked me to provide a list of some books I like with pithy descriptions.
Gary Brecher's Illiad makes the cut. But one of my favorite books that I only recently discovered — thanks to Evgenia — is Natalia Medvedeva's memoir: "Hotel California." Her and Eduard Limonov used to be an item, and her book is the best I've read about Russian immigrants in America, and our immigrant mindset and culture. "Victims of Radio Liberty," she called us. It's brutal and funny as hell.
Sadly, the editors cut my entry for Genesis by R. Crumb (2009) — which I put instead of the generic "Torah" because I didn't want to scare the editors with an overt religious text. I still think that the original Genesis contains the best distillation what all religions are really about: Having God on your side means you're successful. And being successful is proof that you have God on your side.
Anyway, here's the full list unedited list of some books I like or just find interesting:
The Human Use of Human Beings by Norbert Weiner (1950)
This book offers a prophetic warning about the dangers that computers pose to society — from the man who invented cybernetics, the foundation of today's computer technology.

The War Nerd Iliad by Gary Brecher (2017)
This totally new translation lets you read The Iliad in the way it was meant for it to be consumed: not as an academic chore, but as a blockbuster tale fit for IMAX.

Cynics: A Novel by Anatoly Mariengof (1928)
A brutal, poetic love story that takes place amid the famines and anarchy of the Russian Revolution — written by someone who lived through it.

You Can't Win by Jack Black (1926)
A memoir of a hobo, thief, and opium junkie. An incredible tale about the last years of the American frontier.

Peter the Great by Robert K. Massie (1980)
Russia is on everyone's mind these days. But you can't understand modern Russia without understanding the man who made it. It's also one of the best biographies I have ever read.

Three Stigmata of Palmer Eldritch by Philip K. Dick (1965)
Kinda hard to explain why a book about precogs, malevolent aliens, forced immigration to Mars, and drug-induced communal hallucinations that are restricted to a Ken and Barbie doll set is so good. It just is.

From Counterculture to Cyberculture by Fred Turner (2006)
A pioneering work of cultural history looking at how 1960s counterculture intertwined with and empowered the military-industrial complex. It's a must read for anyone who wants to understand Silicon Valley.

Hotel California by Natalia Medvedeva (1989)
Nothing quite captures the absurdity of a Soviet immigrant chasing the American Dream like this memoir of a young woman who moved to Los Angeles in the 1970s and became a model and singer. Sadly, it has not been translated into English.

The Populist Moment by Lawrence Goodwyn (1978)
A history of an American grassroots democratic movement that tried to take on the power of concentrated capital. The movement failed — or rather, it was crushed. But this book gives a glimpse at what a path to a truly egalitarian and democratic politics looks like.

Genesis by R. Crumb (2009)
Great graphic novel retelling one of the Old Testament's best books, the over-arching moral lesson of which is that are no morals: it's all about having God on your side.
—Yasha Levine